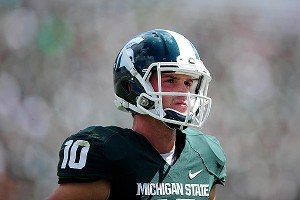 From ESPN.com via US Presswire
By Sean Gagnier
In one of their first rankings of the season ESPN has published their "Way too early Top 25" and Michigan State is sitting at No. 9 on that list - five spots ahead of their rival Michigan. While as it says, this ranking is way too early, it shows that the Spartans are beginning to be recognized nationally for what they have accomplished over the past several years and that the hard work of the coaching staff is beginning to pay off.
ESPN's Mark Schlabach wrote in his article,
"Michigan State is quietly becoming the Big Ten's most consistent program, winning 11 games in each of the past two seasons and winning its first bowl game during coach Mark Dantonio's tenure. Eight starters are coming back to a very stingy defense, but the Spartans will miss All-Big Ten defensive tackle Jerel Worthy, who left early for the NFL draft. Replacing quarterback Kirk Cousins and his top four receivers won't be easy, but tailback Le'Veon Bell will be back in 2012. Tennessee transfer DeAnthony Arnett and four-star prospects Monty Madaris and Aaron Burbridge might be able to help at receiver immediately. The Spartans play nonconference home games against Boise State on Aug. 31 and Notre Dame on Sept. 15, and they'll have to play perhaps the two best teams from the Leaders Division (against Ohio State at home on Sept. 29 and at Wisconsin on Oct. 27)."
What this is saying is that the first two 11-win seasons in school history has not gone unseen by the rest of college football - Michigan State is quickly being seen as one of the top schools in the Big Ten Conference. Yes the Spartans lost quite a bit at graduation this year, but what they restocked their team with might end up being better.
Edwin Baker left the team for the NFL Draft - he was part of a trio of running backs that would have seen him fall to second on the depth chart behind Le'Veon Bell. He saw his window of opportunity closing and took a leap, whether or not he will catch on at the next level is still to be seen but the Spartans can still field a formidable collection of running backs.
The starting RB will be Le'Veon Bell and will split carries with Larry Caper and possibly Nick Hill. These RB's will have the help of a strong offensive-line that will return to healthy form and will be able to open running lanes. Both of Michigan State's tight end's graduated but the Spartans have Dion Simms to fill the gap and could start one of their new recruit's.
But importantly MSU is bringing in a haul of wide receiver talent with Aaron Burbridge, Monty Madaris and Tennessee-transfer DeAnthony Arnett all being ranked as four-star prospects, it appears as though the Spartan receiving corps won't miss a beat in 2012.
More important than who will be catching the ball will be who is throwing the ball to them, and that is Andrew Maxwell. The junior quarterback has drawn attention from the coaching staff while on the practice squad and even caught the eye of outgoing QB Kirk Cousins who had great words of praise for Maxwell.
"He's much farther along at that point in my career," Cousins said. "I think he's going to be very good here. I wish I could stick around and watch."
While this Top 25 may be way too early, it is a sign of good things to come at Michigan State. They have proved that they weren't a fluke and have established themselves near the top of the Big Ten.